Schaertel Publishing, Inc.



United States Naval Air Stations of World War Two - Volume One, Eastern States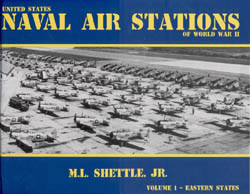 This publication documents all 86 Naval Air Stations commissioned east of the Mississippi, including Louisiana. The text covers the use of the land and the historic aviation events prior to the Navy's involvement; the Naval aviation activity at the station during the war, and the status and use of the airfield today. In addition, there are numerous anecdotes and insights into WW II Naval Aviation, as well as text and many photographs of the aircraft in use. Recollections of WW II Navy veterans lend authenticity to the work. The 257 photographs include a full-page aerial shot of each station. This high-quality book is hard-bound, 8.5 x 11 inches, and 244 pages printed on glossy art paper. Included is a 17 x 22 in. removable map of all the WW II Navy, Marine Corps, and Coast Guard air stations. The devotees of WW II and/or Naval Aviation will find this work an indispensable addition to their libraries. Order now!

Site design by Kaleidoscope Tech, Inc.
Schaertel Publishing, Inc. © All rights reserved