Schaertel Publishing, Inc.

Florida's Army Air Fields of WW II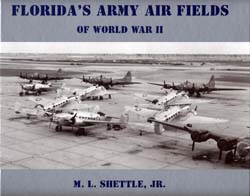 Florida, with moderate weather, flat terrain and easy access to off shore gunnery ranges, became the ideal location for airbases during WW II. The number of personnel and aircraft involved rivals or exceeds the size of today's Air Force. M. L. Shettle's latest tome is the definitive work and will become the standard reference on Florida's 43 Army Air Fields. The 244 page book is printed on 8.5 by 11 inch glossy art paper, hardbound, and contains 353 photographs, most of which have never been published. Priced at $34.95, it is a bargain! Order now!

Site design by Kaleidoscope Tech, Inc.
Schaertel Publishing, Inc. © All rights reserved